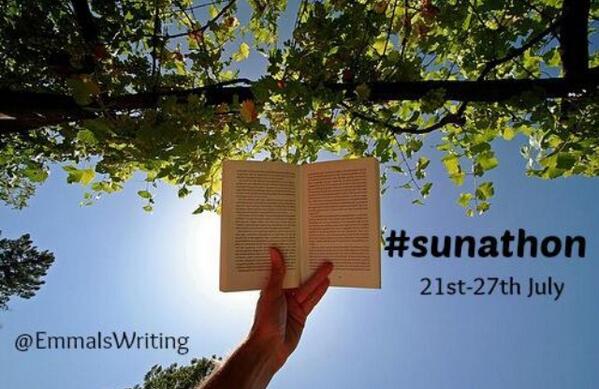 I'm sure that by now some of you may have seen that hastag #sunathon floating about on Twitter and wondering what it is. Well it's a readathon starting next Monday for a full week. I love taking part in readathons as it allows me to challenge myself into seeing how many books I can get read, and how many pages.
I think a lot of the time it is so easy for us to get lost in everyday life, and it's nice to take that time out and enjoy someone else's story, or even another world. You don't need to do a lot of reading, the idea is to try and do a little more than what you might normally do. Whether that's setting aside half an hour one day to do a little reading, or challenging yourself to complete a full book within the week. You might have found that you've read nothing but textbooks or journals for months, and now you can take the time to read books you enjoy, rather than something you must read.
Below you can see the official information about #sunathon
From the 21st to the 25th July, book bloggers from all around the world will be taking part in #sunathon. What is #sunathon? Created by Emma Louise (@EmmaIsWriting), for that particular week in the gorgeous sun (or rain in you're in the UK), we're going to read. It doesn't matter how much you read, as long as you make time for reading. There are a lot of people around the world who are blind to the magical world books and it's a shame. More of us should read. I've decided to make it a full week: Monday-Sunday because a lot of book bloggers have full time jobs and they squeeze reading in between. I've made it longer just for them.
I hope some of you will join me in taking part in #sunathon, and I will be sharing with you the books I want to read next week.
Beth x